In Service of People – Lexus Financial Services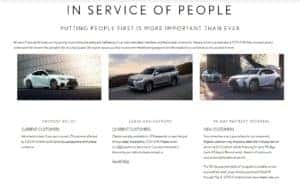 In Service of People – Putting people first has always been our priority, but at times like these it is critical to have support. For information about assistance from Lexus Financial Services call 800.874.7050, Monday through Friday, 8 A.M.- 5 P.M. https://zurl.co/xYvJ will get you answers to Frequently Asked Questions.
https://www.lexusfinancial.com/us/en/covid-19.html
PAYMENT RELIEF
CURRENT CUSTOMERS
We're here to help. If you are a current LFS customer affected by COVID-19 and would like to discuss payment relief please contact us.
LEASE-END SUPPORT
CURRENT CUSTOMERS
Options are also available for LFS lessees (at or near the end of your lease) impacted by COVID-19. Please review our FAQ section to learn more. If you are interested in discussing your options please contact us.
90-DAY PAYMENT DEFERRAL
NEW CUSTOMERS
Now more than ever, Lexus is here for our community. Eligible customers may choose to defer their first payment on all new and L/Certified vehicle financing for up to 90 days (up to 45 days in Pennsylvania). Interest will continue to accrue during the deferral period.
The 90-day payment deferral* program is available on new and certified retail Lexus vehicles purchased March 18 through May 4, 2020. Contact a local Lexus dealer near you.